What is Your Body Shape? It's All About Proportions.
Why does it matter?
Do you have a piece of clothing that just makes you feel good when you wear it? Did you ever stop to think why? Or maybe there is that top or tunic that you love the colors but something just doesn't feel right when you wear it. Most likely it's the match (or mismatch) of your body shape to the garment's style line.
For example, you could be a triangle shape, hips wider than your shoulders, and you don't feel your best when you wear a top that adds volume to your widest part. These could be tops with uneven, waterfall hems that fall to your hips on the sides, or hemlines cutting across right there, and so on. Weight doesn't play a big role because even skinny triangle's will have their proportions off wearing the wrong style of garment.
Where to start? First measure your body.
Standing in front of a mirror helps! This way you can make sure that the tape goes around the right part and is parallel to the floor.
Shoulders: you might need some help with this, have the tape fit loosely, like it's ready to slip off. Shoulder measurement:_________


Bust: measure around your bust, the fullest part, and have the tape snug but not too snug; don't smash yourself. Bust:_______


Waist: find the smallest part of your natural waist, usually above your belly button. Waist:_______
You could also bend and with your hand, feel where that is as you bend at the side.


Hips: Look in the mirror and find your widest part and wrap your tape around yourself. Hips:_______
Make sure you are also going across the widest part of your behind.
Next: the math!
What we are trying to find out is what is the proportion of shoulders or bust to hips and how does the waist factor in. Grab a calculator and let's start. This is partially based on the book, The Science of Sexy, by Bradley Bayou.
S (shoulder) B (bust) W (waist) H (hips)
S divided by H = _______
B divided by H = _______
W divided by S = _______
W divided by B = _______
W divided by H = _______


What does it mean?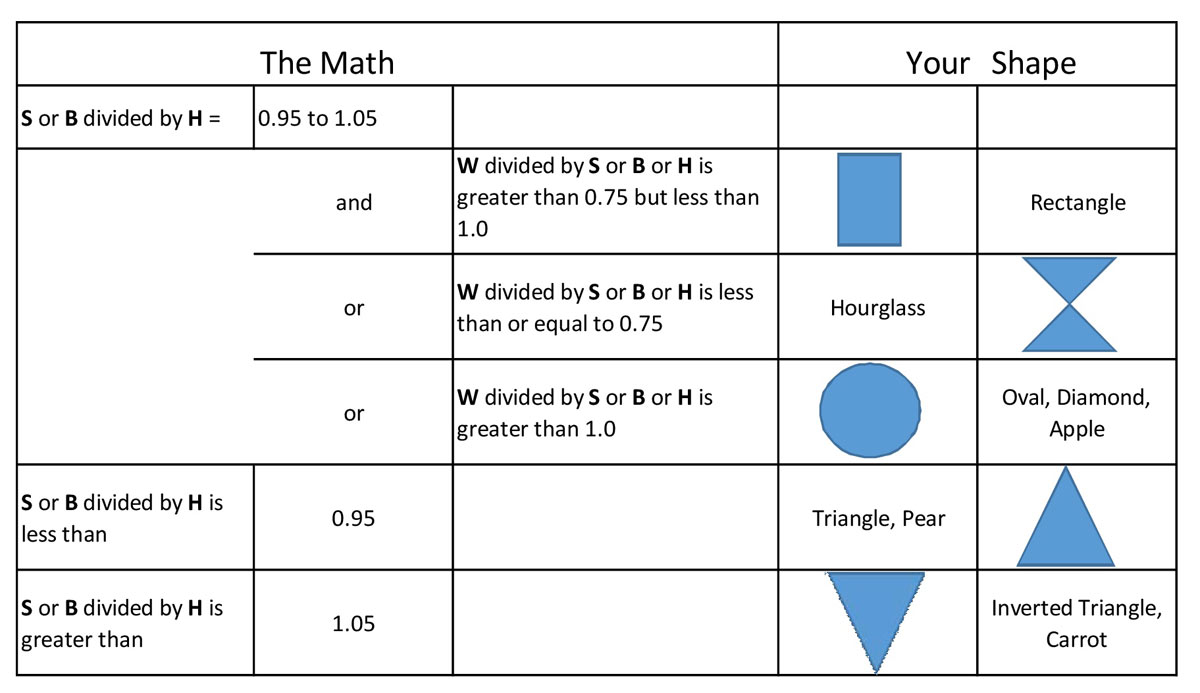 Now What?
We are here to help you find the clothes that work best for your proportions. Listed below are some general style guidelines for the different body shapes. We have also tried to determine which products work best for the different body shapes and added that information in the product description.
Rectangle
Not much of a defined waist so let's either create one or play up your legs and arms. Or flaunt your shape and go with the straight silhouette. To create curves: embellishments, details at neck or bust, V-necks, off-shoulder, ruffles, empire bodice, shaped hip length jackets, color blocking, bias cuts. Not the best designs: drop waists, boxy tops or tunics, slouchy looks, very straight skirts and dresses with no details to draw the eye up.
Hour Glass
You've got the curves! Highlight them! Define the waist, flatter your neckline. Tops should be drapey, body skimming, end at high hip or below your bottom; vertical seams for contouring, deep V's, scoop neck. Wraps are your best friend. Jackets shaped blazer with vertical seaming, cardigan skimming and straight. Pants with a bit of a flare to balance hips. Not the best are straight or boxy designs or too much volume enhancing like ruffles and bows.
Oval, Diamond, Apple
How to work with your middle which is bigger than your shoulders or hips, that's the challenge. Try to elongate the torso, draw the eye up or to your legs. Create an illusion of a waist; also structured pieces will add definition. Empire cuts are your friend, so are wraps and princess seams. A good look is a tunic top with narrow pants. Accent your legs with skirts that have some movement at their hem. Jackets should be longer, cardigan or single breasted style. Dresses such as wrap, A-line, or anything that draws eyes to legs or up to face. You may want to stay away from a lot of waist details, gathered skirts, boxy cuts, ruffles, even shoulder bags that add across your middle.
Triangle, Pear
Hips--you've got 'em! If you don't want to flaunt them, work on drawing the eye up with bust, shoulder, neck details. Add volume to your upper body to create balance. Tops with boat, cowl, ruffles, wide V or U, full volume sleeves, boxy shrugs; length should be at low waist or high hip. Unfortunately, many tunics are not your friend unless the material is drapey, goes past your hips, details draw the eye up. Jackets also need to be shorter: cropped, at waist or high hips, wide lapels, shawl collars. Dresses are also a bit challenging. The most flattering are wrap dresses, soft material, empire fitted over bust and draping loosely. The key is adding volume to the top and drawing the eye up. Styles that aren't the best for you are bias cut dresses & skirts, baggy tunics and tops, skinny pants with out something over them.
Inverted Triangle, Carrot
You are statuesque with your broad shoulders and longer legs! If you want to down play the broad shoulders and balance your figure work on adding volume to your lower body. You are the one that rocks the straight tunic over a slim skirt or pant! Form fitting silhouettes works and also color blocking with dark on top and light on bottom. Tops: raglan, shawl collars, wraps, hit at high hip or are long. Jackets: straight cut, small notch collar, cardigan, shirt jackets. Dresses: shifts, shirtwaist, T-shirt dress, wrap, belted, A-line. Stay away from boxy, ruffles at top, embellishments at waist, anything adding volume to your top half.